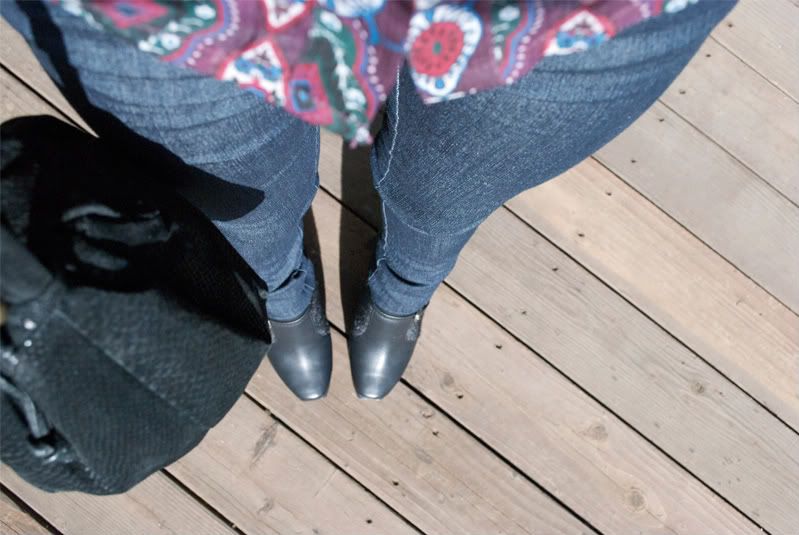 macy's ruffled paisley top, f21 gold ring, thrifted cuff bracelet, vintage purse, shoes: e-mail me for more details

if i could sleep in these shoes...i would.
i spent about 15 straight hours in them yesterday
aimlessly prancing around my room, up the stairs, the garden, driveway, kitchen, you name it.
then got them some well deserved attention when i debuted them at my friend's baby shower. of course, there were PEOPLE who thought i was completely crazy. whatevs! gotta do what makes me happy, right?!
they really are that much fun to wear.

i'm thinking of ordering a second pair so that i can have one in mint condition and another that i can beat up & give some tough lovin' to. I can't believe i almost let these go. stuffing them with three pairs of socks seems to do the trick for my tiny feet! the original balenciaga's that these were inspired by were leather and suede, but i'm really liking the faux pony hair & leather combo. I'm in direct contact with the supplier, so if you are interested in ordering a pair or would like more details, send me an e-mail (sidebar)!
p.s. my OUTFIT WAS FEATURED AS FABSUGAR'S

LOOK OF THE DAY

!
P.P.S. I NEVER KNOW WHAT TO DO WITH MY HANDS. ANNND
I'M STILL SUPER IFFY ABOUT POSTING SUCH HUGE PHOTOS OF MYSELF. PARTICULARLY ONES THAT SHOW MY BACKSIDE...AHH! I FEEL SO EXPOSED.
OH WELL, I GUESS IT'S ALL FOR THE SAKE OF OUTFIT DOCUMENTATION.