If you can't tell, it's supposed to be a charm bracelet.
Charm bracelets are such sentimental pieces of jewelry and so
I really liked the idea of creating my own to display on my hat.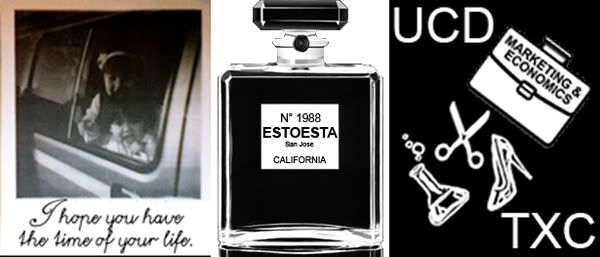 A CLOSE-UP OF THE "CHARMS"
1. A Polaroid of my sister and me when we were younger.


She scanned it for me because she couldn't
come for my commencement ceremony.
She lives on the East Coast and had work. TEAR.


2. A play on

CHANEL No.5

.


1988 is the year I was born in San Jose, California.
Now you all can stalk me properly haha

3. Representing my major!
UC Davis Textiles & Clothing = UCD TXC
I got a lot of questions about the beaker and Marketing and Economics briefcase.
Long story short, my major is actually more like
Marketing, Managerial Econ, and Fiber & Polymer Science
ALL MIXED INTO ONE.


OTHER "CHARMS"
[clockwise from the top]
1. A black flower and feather hair-clip that I used to wear a lot
2. My Chanel inspired double E logo
Don't worry Karl & ghost of Coco, I promise I'm not mass producing ;)
3. A locket with a photo of my mom and sister
4. The rest are just buttons and crystals!

THE INSIDE OF MY GRAD CAP
I was soo surprised the ink didn't run.
The day of my graduation ceremony was ridiculously hot. Up in the 100's!
I seriously expected the inside of my hat to be soaking wet from sweat
when I took it off but I was pleasantly surprised to find it wasn't.

The quote is in French. I don't speak a word, but it should
translate to "and our small life together."

Explanation?! While I'd love to be super successful so I can give my
mom the world (she deserves it)...I myself would be happy with a
"small" life. As long as I'm doing something that I love
and can afford to travel with my friends and family
I know I'll be a happy camper. Actually, I do also want
to be able to get custom made shoes regularly. AHAHA!!!
Curse my petite feet.

p.s. That's my 93-year-old grandma giving the deuce sign.
Not my sister's fiancé who is to the left of my G-Unit.